With over 146 years of Irish Sporting History, the Aviva Stadium is unlike any other sporting ground in Ireland. Home to both Irish rugby and soccer national teams, the Aviva Stadium is a world class stadium formerly known as 'Lansdowne Road'. The stadium is located adjacent to Lansdowne Road Railway Station and opened in May 2010 as Ireland's first and only UEFA Elite Stadium. As well as hosting Irish rugby and soccer fixtures, Aviva Stadium also hosts a variety of concerts, seminars and conferences throughout the year.
The AVIVA Stadium is located just a quick 17 minute stroll from the hotel.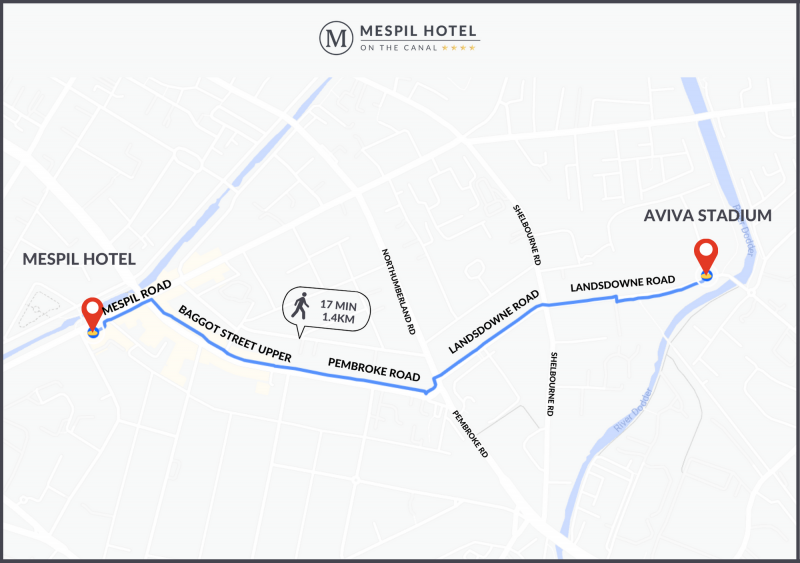 The RDS is an iconic Dublin venue, located on a stunning 42 acre site in the city centre. It is regarded as one of Ireland's premier venue's for conferences, concerts, meetings and events. With 10 multi-purpose conference and exhibition halls, an outdoor stadium, break out rooms, meeting rooms and 22,000sq m of floor space, the RDS offers extensive possibilities to event organisers. Sporting event's and concerts also take place here making the RDS one of Ireland's most versatile event venues. The prestigious Dublin Horse Show also takes place here every year.
The RDS is located on Anglesea Road, Ballsbridge, Dublin 4 - just a 19 minute stroll from the hotel.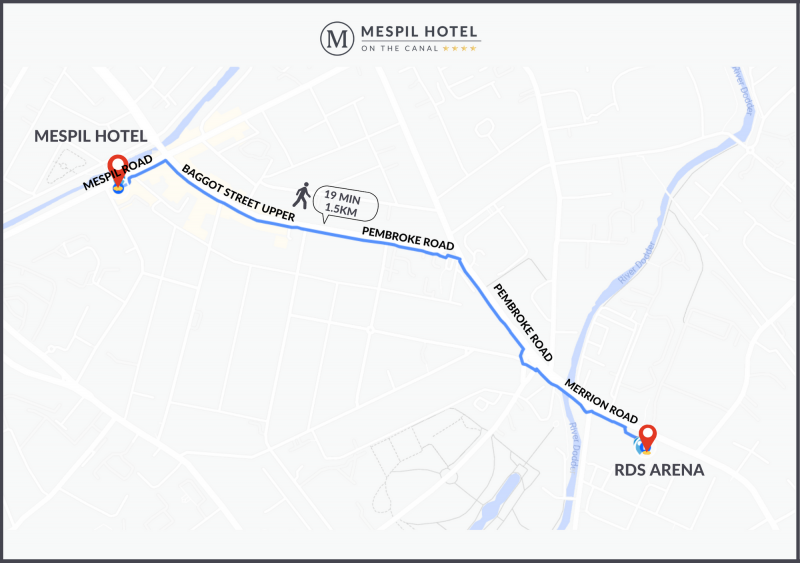 The 3Arena is one of the largest indoor concert venues in Ireland with max standing capacity of 13,000 and seated 9,000. The large venue gives an intimate feel with the furthest seat from the stage just 60 meters away. This is achieved by a 'fan-like' seating formation likened to the Colosseum of Rome. The 3 Arena is located in the heart of Grand Canal Dock, just a 25-30 minute stroll from the hotel.
Bord Gáis Energy Theatre
The Bord Gáis Energy Theatre is a 2,111 capacity purpose-built theatre that opened in March 2010. Hosting the best of National and International Theatre, Musicals, Drama, Opera, Ballet, Family Shows & Classical Concerts and world class West End and Broadway productions.
Croke Park
The home of GAA, Ireland's largest sporting and cultural organisation, Croke Park is one of the prime visitor attractions in Dublin. Boasting a capacity of 82,300, Croke Park hosts many sporting and music events throughout the year. The campus also features the GAA Museum, Croke Park Meeting and Events Centre, Stadium Tour and Etihad Skyline Tour.
The Iveagh Gardens is a public park located between Clonmel Street and Upper Hatch Street, near the National Concert Hall in Dublin, Ireland. The gardens are almost completely surrounded by buildings making them less noticeable and a little hard to find, unlike other green spaces in Dublin. This makes them one of Dublin's hidden gems and the world's most unique concert venues!
Marley Park
Marley Park is a 121 hectares (300 acres) suburban public park located near Dundrum Co Dublin, approx. 9KM / 5.5 miles from Dublin city centre. The parkland comprises of woodlands, ponds and walks.
Since 2000, Marley Park has become a popular music venue with a capacity of 32,000 featuring both renowned national and international performers. It has been the home of Longitude Music Festival since it began in 2013.
Convention Centre Dublin (CCD)
The Convention Centre Dublin is a world class conference venue located in Dublin's Docklands, just 20-25 minute stroll from the hotel. Opened in 2010, the CCD has hosted over 1,500 events from symposiums to conventions.